Hot Rods, Sun, Grace Kelly | Southern CA
Hot Rods, Sun, Grace Kelly - Southern CA
Hello Lovely,
Can you believe it is already March? Soon enough Easter will be here, and then just a short time until the official arrival of summer!
I am a warm-blooded gal at heart, my true inner spirit full becomes awake in the summer months. Maybe it's the sun, heat, tan skin, and the easy vibe that summer brings.
Okay, I might getting ahead of myself here as spring hasn't even fully arrived. Maybe I am dreaming of the sun since I was in Southern California last week.
I am a true California girl at heart ("I wish they all could be California Girls" just popped in my head by the Beach Boys, what about you?), even though I have never lived there.
Born and raised in the Pacific Northwest, I grew up frequently traveling to California to visit family, and especially the last 10 years to visit my older brother, Louis.
This last weekend my husband and I headed down to Orange County specifically to attend a seminar and we brought along our office staff members (if you haven't already checked out my husband's office, go towww.newedgewellness.com).
Lucky me, I just got to go along to enjoy the sun and some much needed hang out time with my brother. Louis is five years older than me, so growing up I wasn't very fun to hang out with. While he was working on his hot rod as a teenager, I was still playing with Barbies and having tea parties. I love that now as adults we can hang out as friends, even though I'll always be his annoying little sis, haha.
Louis and I grew up around hot rods, street rods, and oldies music. There was hardly a weekend summer where we weren't at a car show with our parents. (PS to read more about my affinity for all things vintage and old-school, read my blog post Beach Blanket Bingo )
Louis's love of cars has always been a part of his identity, and now he is the most talented person I know when it comes to rebuilding cars, hot rod metal work, and overall gear-headedness.
While down for the weekend, he picked me up in his 1927 FordRoadster. As a girl that grew up with roadsters every weekend, I knew to pack a scarf! The only way to keep your hair semi decent after riding around in the roadster all day is to cover it with a scarf and just pretend you are Grace Kelly.
During the weekend, my brother and I rode all over the place in his little roadster, ate late brunches, hiked the hills with gorgeous ocean views, and even had a little time for mini golf and arcade games. All in all, it was a successful weekend!
While we stopped for brunch at The Ramos House Café in San Juan Capistrano, we fell in love with the cutest abandoned barn - we couldn't help but take some photo-shooting opportunities with the rod!
I hope you enjoy the pics (outfit details at the very bottom for those who want to know), and you can follow my gear-headed brother on Instagram@hothead_lou .
With Style and Grace,
Deidra Murphy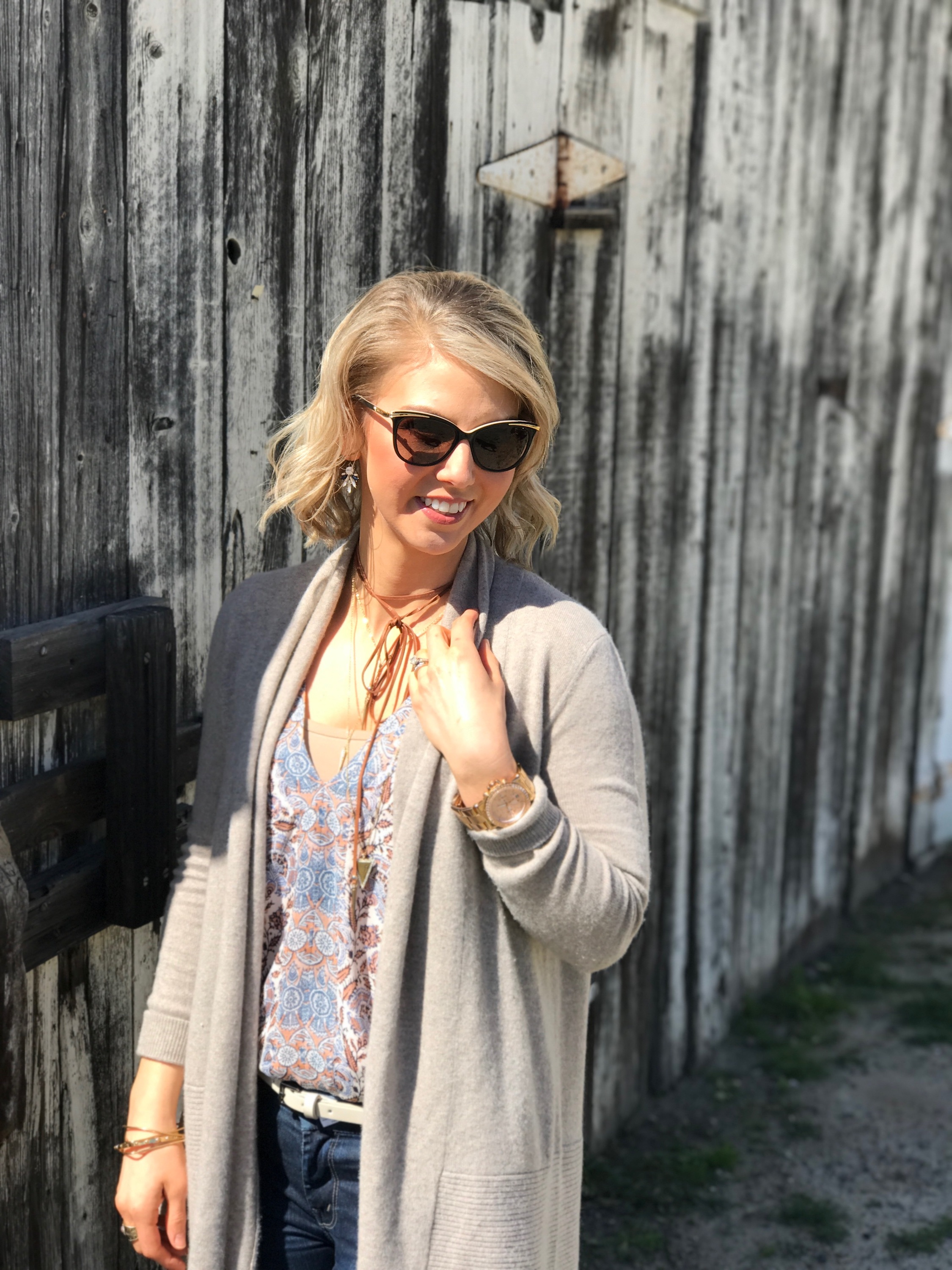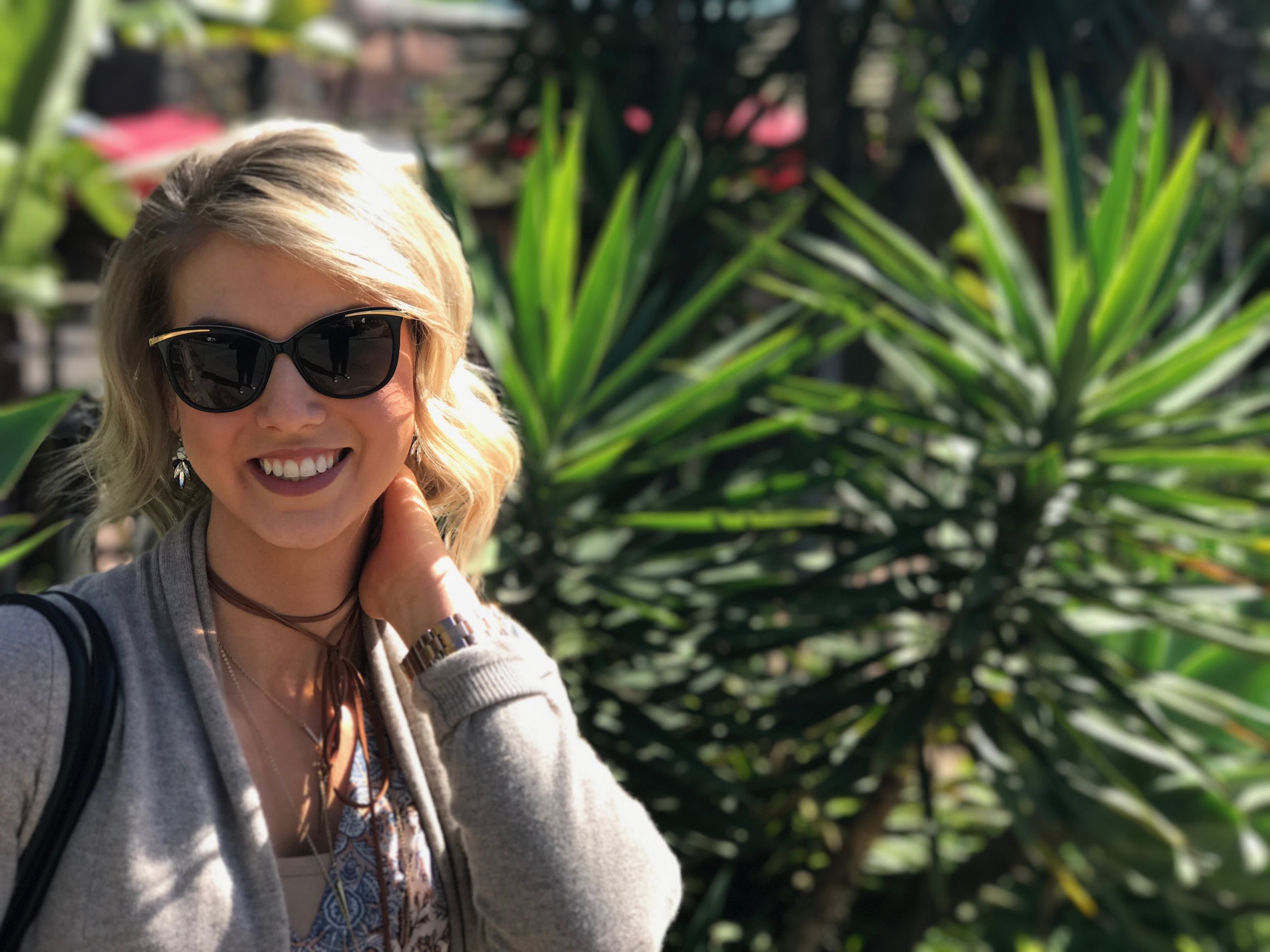 Outfit details:
Booties: BP Trolley bootie from Nordstrom, shop here
Jeans: Mother Denim, The Looker Skinny, shop here
Silk tank: Joie, shop here
Metal jewelry: All by Chloe and Isabel, shop here
Leather choker: Fugio Designs, shop here
Cashmere cardigan: Repeat Cashmere, shop here
Sunglasses: Ralph Lauren, shop here